If you subscribe to Knitty.com, you already know they have a wide variety of fun knitting patterns for free. You have to learn to knit, after all, you can't really cross stitch it near total darkness or when your eyes are wonky.
May I direct your attention to these fun filled socks by Heatherly Walker (aka Yarn Yenta). Now, aside from acknowledging they are very cool socks and wondering whether a sock designer's real name is "Walker," you may also be wondering why I'm posting about them.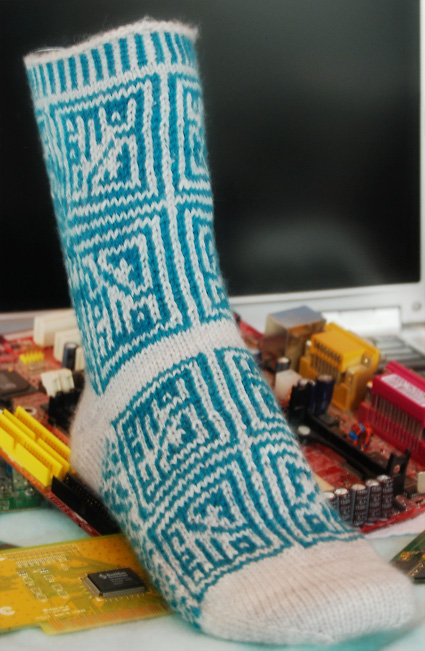 Well, if you scroll down in the pattern, you will see that Heatherly is a happy Ink Circles customer and used some wonderfully appropriate stitch markers that I made for her.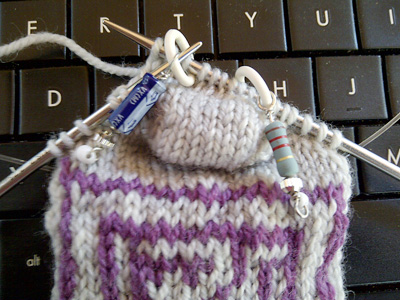 Wow, I feel so famous now. Should you want to order your very own set of geeky stitch markers made from capacitors, resistors, light bulbs and other leftovers from my engineering days, I have a number of sets over in my
Etsy shop
.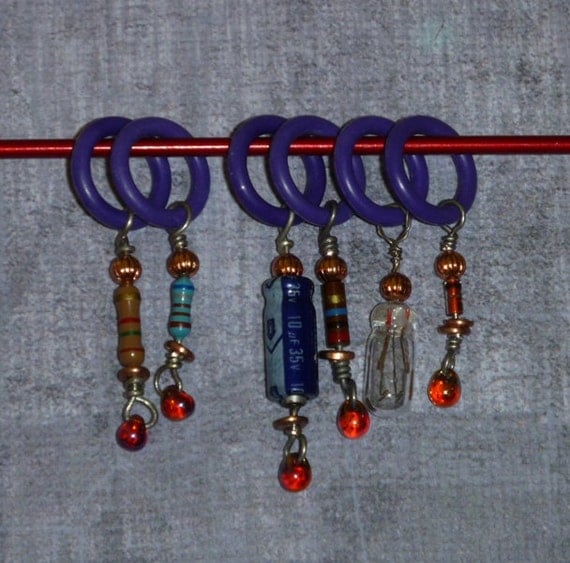 I know you'll want to download her pattern if you haven't already:
Microprocessor Socks
. I think I will make mine in green and silver.
Very cool additional note: Heather has just told me that her socks (complete with the circuit board and resistors display) have been selected to be part of an exhibit on science influencing crafts. Is it still cool to say awesomesauce?!?